The management team at Riverview Center was pleased to welcome Congressman Paul Tonko to Riverview Center a few weeks ago. Having shopped there with his parents back when Riverview was a Montgomery Ward's department store, Mr. Tonko was curious to see firsthand the transformation of the building that has taken place since Hampshire Properties bought the property 15 years ago. That transformation has been substantial - what was formerly a department store converted into mostly storage space has become a bustling mixed-use office complex with retail and warehouse space.
Congressman Tonko observed efforts to re-configure a former industrial space into a useful and positive gathering place for all the employees in the building.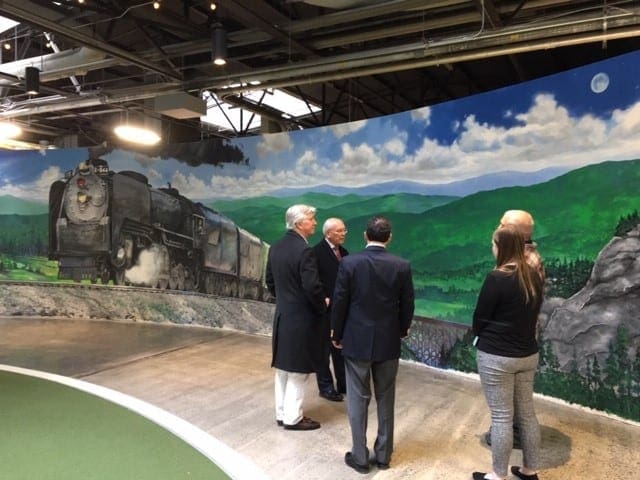 Over 1,000 employees working for over 60 different employers call Riverview Center their workplace - and those employers include both private-sector companies as well as various New York State agencies. The landlord recently renovated the former "train shed" in the building which was previously where 100 train cars per day would deliver and pick up merchandise to be distributed to all Montgomery Ward stores in the Northeast. The newly upgraded train shed has become a showcase where employees gather for lunchtime, breaks, or simply to walk laps around the train shed where 10 laps is a mile. There are workplaces, bleacher-style seating, high-top tables, and chairs, a few train murals, as well as a putting green.
After touring the train shed, the Congressman then visited three companies in the building. The first was Cognia which is a company involved in educational testing services. The tour was conducted by Jay Gelston who is the Site Scoring Manager.
The second tour was the Worker's Compensation Board judiciary hearings facility. The tour was conducted by Madeline Pantzer, Cheif of Adjudication. Their facility has been outfitted with high-tech video-conferencing technology allowing local judges to adjudicate hearings from many remote locations.
The final tour was the executive offices of Health Research Inc. (HRI) which was conducted by Executive Director Cheryl Mattox. HRI works closely with New York State to complement and enable strategic public health goals of the NYS Department of Health, Roswell Park Cancer Institute, and other health-related entities.
Congressman Tonko visited with Cognia, Health Research Institute, and the Worker's Compensation offices, and was interested to see how the former industrial wing of the building has been transformed into modern office space with the latest in sophisticated technology.
The final stop on the tour was a walk through the vacant 7th floor which boasts 16' ceiling heights, spectacular views of downtown Albany skyline, a contagious footprint of 92,000 SF, and would make an impressive corporate headquarters for the right tenant.
If you would like to see for yourself why our congressman was so impressed with the building, Felton McLaughlin and Cory Tyksinski of NAI Platform are the leasing agents for the landlord and would be happy to offer tours of any of the vacant spaces currently being offered for lease and a complete list can be found by clicking on the link below.